10 Incredible & Unique Things to Do On Your Honeymoon or Couple Getaway in Bali
 1.     Trek the Lush Campuhan Ridge Walk
Go on an unusually romantic short trek at the Campuhan Ridge and soak in the stunning lush landscapes of Ubud.
2.     A Cultural Downhill Cycling Tour in Ubud
The best way to learn about a culture is to immerse yourself in it. From enjoying a sumptuous breakfast by Mount Batur, to exploring the local countryside, this cycling tour will delight both you and your loved one. Book a cycling tour.
3.     Sunset in Style at El Kabron
There's no better place to completely sink into each other's arms than at this secluded Cliff Club. Mingle with other beautiful couples enjoying the warm sun and each other's company. Book a table at El Kabron.
4.     Experience the Uluwatu Kecak & Fire Dance
Be mesmerized by the awesome sight of the setting sun against the beautiful Uluwatu Temple with the shimmering Indian Ocean as the backdrop. This dramatic experience ends with a magnificent performance by traditional Kecak and Fire dancers. Book an Uluwatu Sunset Tour.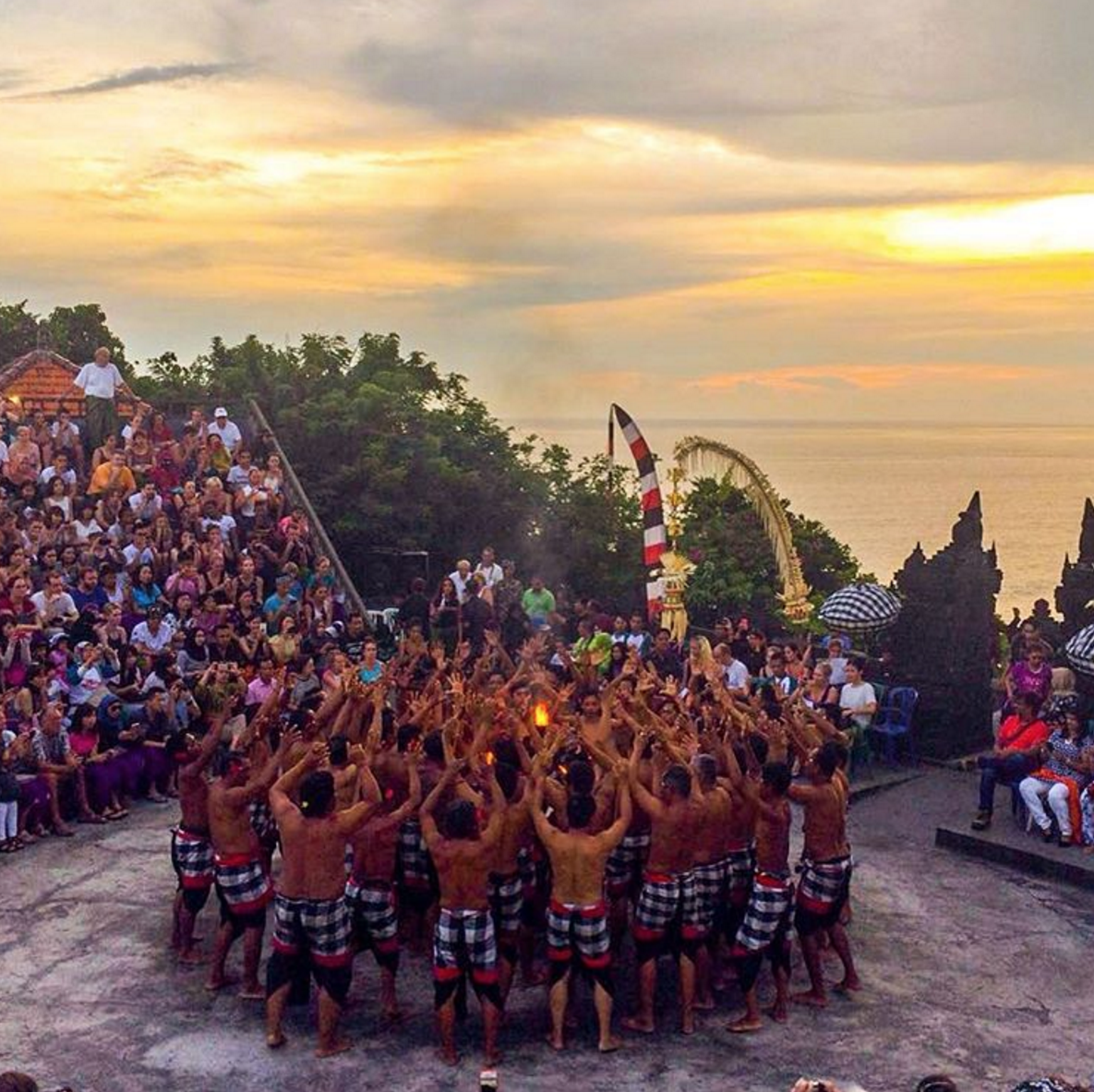 5.     Thrilling White Water Rafting at Telaga Waja
For thrill-seeking couples, you'll love white water rafting at Telaga Waja. The water is a refreshing temperature, and you will pass inspiring rice paddies and take a tumble down the river. It'll definitely be a memorable experience for a honeymooning couple. Book a rafting trip with Sobek.
6.     Stay at Tanadewa's Private Luxurious Pool Villa 
Hide away with your soul mate in a truly special place. Forget the impersonal chain hotels. Escape to a luxurious private pool villa, completely equipped with everything you need. With dedicated butlers at your beck and call, Tanadewa ensures your honeymoon will be a trip you'll never forget. Book Tanadewa's honeymoon package.
7.     Romantic Candlelight Dinner by the Bay at Tanalounge
If you're feeling too lazy or contented to stroll out for food, you can even enjoy a wonderful candlelight set dinner at tanalounge, Tanadewa's own restaurant. You can even choose to have it set up at your own living room, so you can enjoy a 5 star dining experience without having to leave your villa. Book a table at Tanalounge.
8.     Stroll Through the Sea – Seawalker
Another one for the adventurous couple. A once-in-a-lifetime experience. Enjoy walking on the bottom of the Bali Ocean using the Seawalker helmet, while taking in the beautiful diversity of marine life.  The 'walks' utilize a specially designed helmet that is connected to oxygen tanks aboard a boat, which allows you to breathe underwater. Book a SeaWalker experience.
9.     Tirta Empul Water Temple
Take a dip in holy water with the locals for purification, or ask for blessings on your marriage. The Balinese highly respect this spiritual water temple; so treat it with the same reverence.
10. Relax with a Balinese Couple Spa Treatment at Tanaspa
Of course, you can't leave Bali without a Balinese massage. Unwind from your days of exploring the magical island with a treatment at Tanaspa. Their massage uses a combination of gentle stretches, acupressure, reflexology, and aromatherapy to stimulate the flow of blood, oxygen and energy around your body, and bring a sense of wellbeing, calm and deep relaxation. You can also choose the Honeymoon Special, which heightens sensuality for both you and your partner. Book a couple treatment Tanaspa.