5 reasons why Tanadewa Luxury Villas is a slice of paradise
1. You are treated like royalty.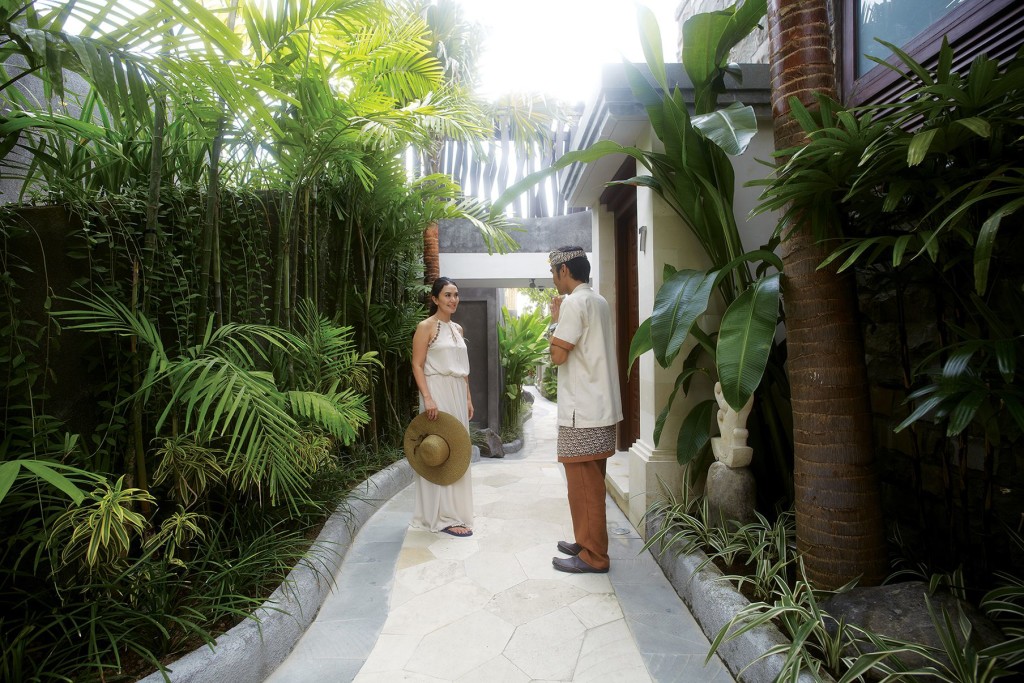 The moment you step into the land of the Gods, authentic Balinese friendliness awaits you.
You might argue that hotel staff offer you warm greetings as well. But here at tanadewa luxury villas & spa, you can expect the staff to know all guests by name and quickly become friendly acquaintances during your stay. We offer you a customer experience so rich and genuine, you will soon feel tanadewa is almost like home. At tanadewa luxury villas & spa, you can expect to feel nothing short of royalty. (Now, what's that about Lorde singing we'll never be royals?)
2. A luxury stay for a fraction of the cost.
tanadewa luxury villas & spa offers you an indulgent stay without the hefty price tag! It might sound a little too good to be true, but with rates sometimes as low as $150 per night, you get to enjoy privacy and the freedom to move about over the constraint of space in a hotel room.
The perfect blend of contemporary and exotic Balinese interiors, luxurious king-sized bed, your own living room overlooking the pool and even an iPod dock to play your own music … sounds like a piece of paradise, doesn't it? That's not all! What's even better is that when traveling with an entire family or group of friends, staying at our luxurious two-bedroom villas are more cost-effective than booking a hotel. You not only save a few extra dollars but spare yourself the hassle of having to book a bunch of hotel rooms. (Oh, and did we mention you get a stunning view of the sunset and Benoa Harbor from our two-bedroom villa?)
3. Your own private swimming pool.
Swim in the lap of luxury in your very own private plunge pool!
What's the point of a getaway if you can't escape from the hustle and bustle of everyday life? Unlike swimming pools in hotels which are off-limits after a certain time, you will never be told to step out of the pool or encounter the need find a quiet spot away from the bustling noise of other guests should you choose to stay at tanadewa luxury villas & spa.
So, do as you please – skinny dip, lose all sense of time as you soak in the pool or even cosy up with your partner under the starry night sky. It's all yours for the taking!
4. Your own personal butler at your beck and call.
Still not convinced? Perhaps, a personal butler might do the trick! Now this is something we're pretty proud of.
At tanadewa luxury villas & spa, you will get to experience the extravagance of a personal butler. Our butlers are at your service anytime to cater to your every whim, and by that, we truly mean anything from setting up a romantic dinner to even the most unusual kind of requests. Feeling peckish after a night out or simply wish to luxuriate in a flower-drawn bath? You need only ask!
5. Award-winning spa treatments whenever you wish.
Your island getaway is not complete without the soothing tranquility of a traditional Balinese massage. So, treat yourself and unravel at tanaspa – which was awarded Best Luxury Destination Spa 2015, which offers you an exceptional experience with the elements of nature.
Before your spa treatment begins, our staff will first have you fill out a form to determine which element is the most dominant in your personality. After which, they will recommend the most suitable signature massage to balance out your inner self – earth, water, fire or air. Experience the sweet escape of restful calm with your significant other and indulge in our Honeymoon Special treatment – a perfect combination of all four elements of nature, with a touch of romance.
You and your partner will get to enjoy total relaxation and harmony by soaking in a hot tub or plunge pool surrounded by the scent of aromatherapy and decorative candles, after the massage. To top it off, the two of you will get to sip on luxury on the private Bale with our signature relaxation drinks!
*Bonus Tip: Should you wish to be pampered right in your villa, our masseuse will be more than happy to accommodate to your request!
So there you go. When in Bali, stay in the land of the Gods. What more could you ask for on a holiday?
Hence, may we suggest you forget the mundane hotel chain escapes and book yourself a truly one-of-a-kind experience here.